Auscott has built a rich heritage in Australian agriculture since the first cotton seed was planted in Narrabri in 1963.
Auscott operates in the rural communities of towns and surrounding areas of the Namoi, Macquarie and Murrumbidgee Valley's. These communities have all played a part in shaping the success and growth of Auscott since 1963, and are an integral part of our business. Auscott takes great pleasure in returning support for these communities through numerous sponsorships and initiatives.
Scholarships
Auscott Scholarships were first awarded in 1969 for students from the Narrabri and Dubbo area High Schools. In the following year a Postgraduate Scholarship in Agriculture was awarded and the Auscott Scholarship Program was successfully launched. A third scholarship was instituted in 1980 for the Moree area.
With the expansion into the Murrumbidgee in 2014 Auscott now offer a third scholarship for the Hay area. Final year high school students, residing within the geographical limits as laid down in the Conditions of Award, are each year invited to apply for an award under the program. The scholarships are tenable at both university and non-university higher education institutions (e.g. TAFE) acceptable to the Scholarship Committee.
What does the Scholarship Include?
An Auscott Education Scholarship will be awarded annually to one student from a High School in each of the following valleys:
Namoi Valley - Narrabri High School and Wee Waa High School
Macquarie Valley - Student being resident either in the Shire of Warren or the Municipality of Narromine and attending secondary school in Narromine, Trangie or Warren
Murrumbidgee Valley - Hay War Memorial High School students completing their secondary schooling at a location within the Hay Shire.
The aim of this scholarship is to cover the costs of books, examination/degree and other compulsory fees and contribute towards basic living expenses up to an annual amount of $11,500. Please note the scholarship does not cover HELP fees.
For more information on Auscott's Scholarship Program or to apply, please click here.
---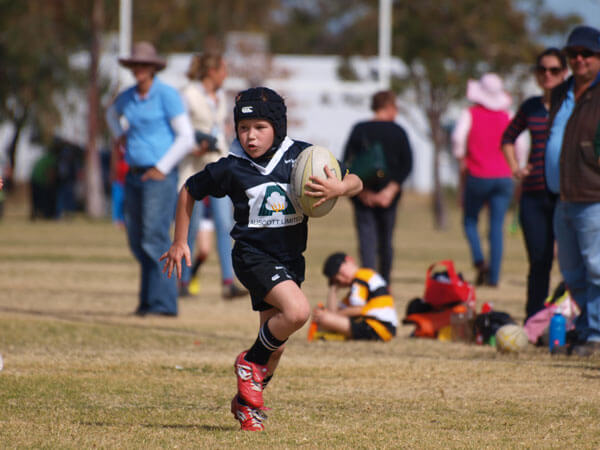 Sponsorships
Each of Auscott's operations in the three Valleys sponsor a number of local teams and events. From the Narrabri Junior Blue Boars, Narromine Gorillas Rugby Club to the Booligal Sheep Races, Auscott enjoys supporting local communities.
If you're part of a team, or would like to enquire about sponsorship from Auscott, please get in touch.